The "Read and Select" question on the Duolingo English Test tests your vocabulary. It is one of the most common questions on the test, so it is a great question to master!
In this post, you will learn everything about the "Read and Select" question type and how to do well on it.
Table of Contents
What is the "Read and Select" question type?
The "Read and Select" question type looks like this: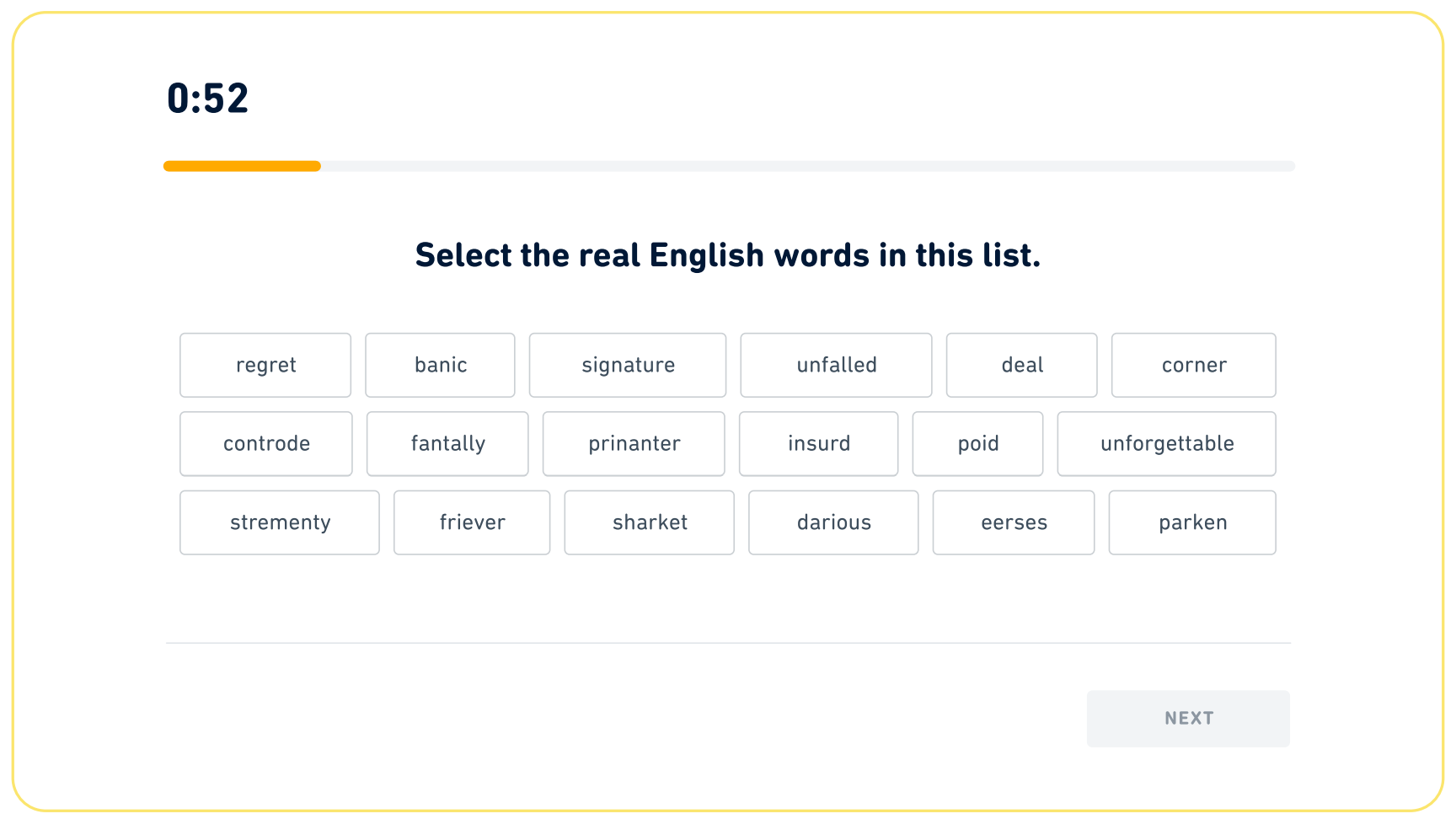 All you need to do is click on the real words. (You can click the word again to deselect it.)
You will have 1 minute for this question. It appears 4 to 6 times on the test, and it counts toward your Literacy and Comprehension subscores.
Tips to do well on "Read and Select" questions
Remember, Duolingo is trying to trick you
Duolingo puts fake words that look and sound like real words.
In the example above, there is the word "insurb." This sounds like "absurb" and "insert", which are both real words so you could easily think that "insurb" is a real word too. But it isn't! 😬
You should not select a word unless you are 100% confident about it.
Pay attention to spelling
Another way that Duolingo tries to trick you is that they will misspell words. For example, they will put a word like, "beleive." This is almost a real word; it is just spelled incorrectly. The correct spelling is "believe".
Some questions have a lot of real words, some have very few
Sometimes almost every word in a "Read and Select" question will be real. Other times, only one or two words will be real.
When answering "Read and Select" questions, don't pay attention to how many words you select or don't select.
The words get harder
The Duolingo English Test is adaptive. This means if you answer questions correctly, the next questions will get harder.
This is easy to see on "Read and Select" questions. If you do well, Duolingo will show you more obscure words and words that are difficult to spell correctly.
How to practice "Read and Select" questions
The best way to practice "Read and Select" questions is to use Arno! We give you instant feedback on your responses, so that you can develop your vocabulary.
Here is how it works:
1) Go to duolingo.goarno.io. If you don't already have one, just create a free account.
2) Go to the "Read and Select" question type and click the "Play" button (shown in the red square below).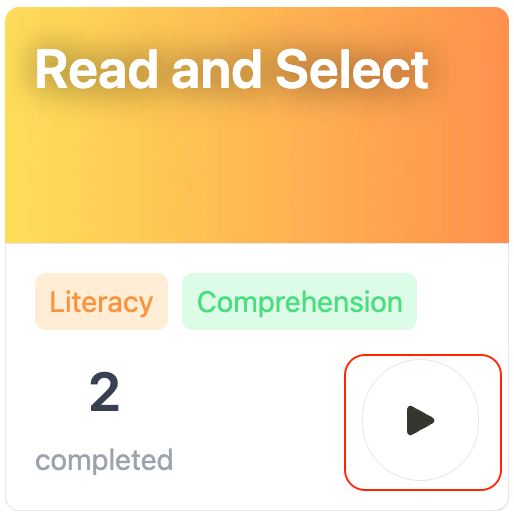 3) Select the real words in the list.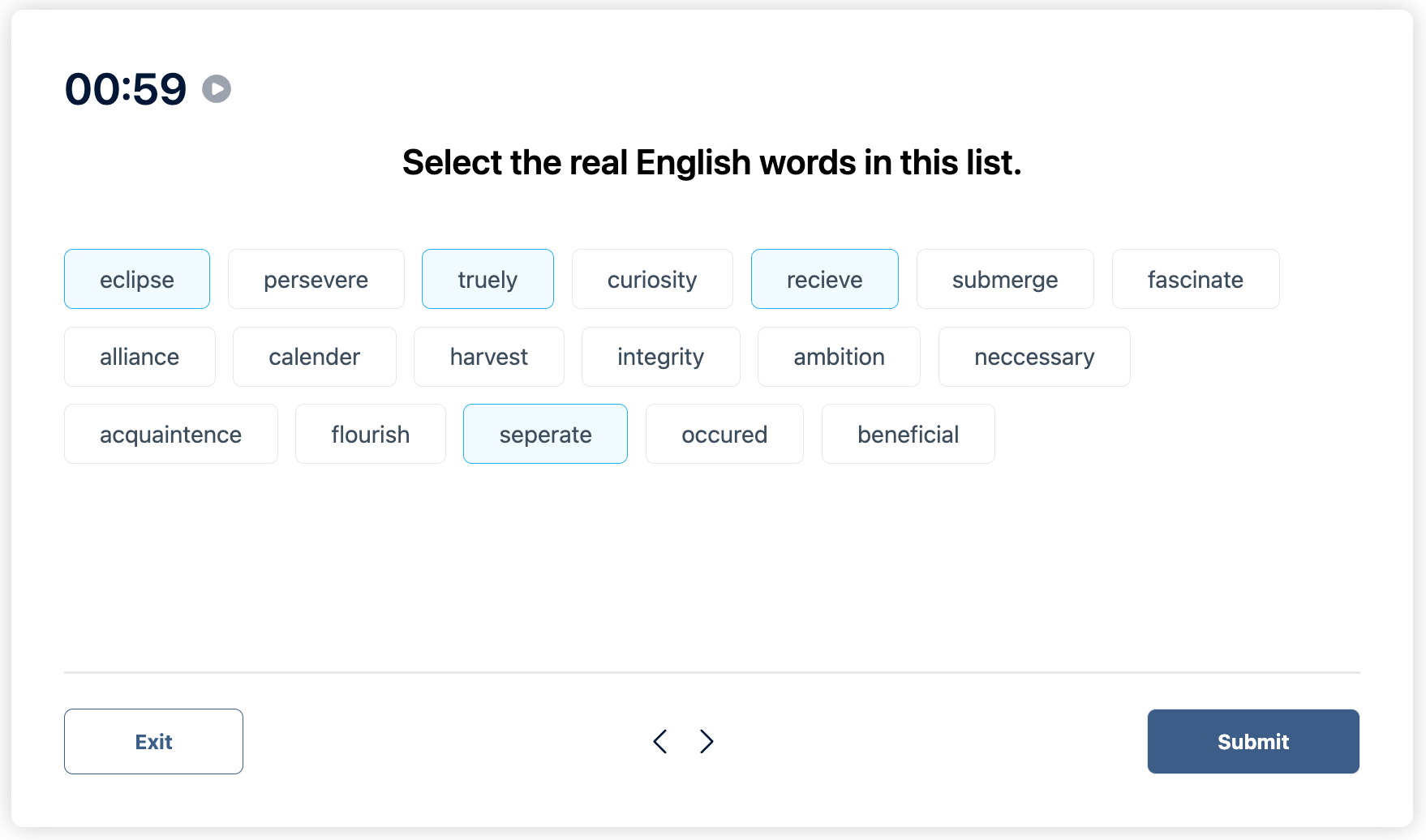 4) Review your answers.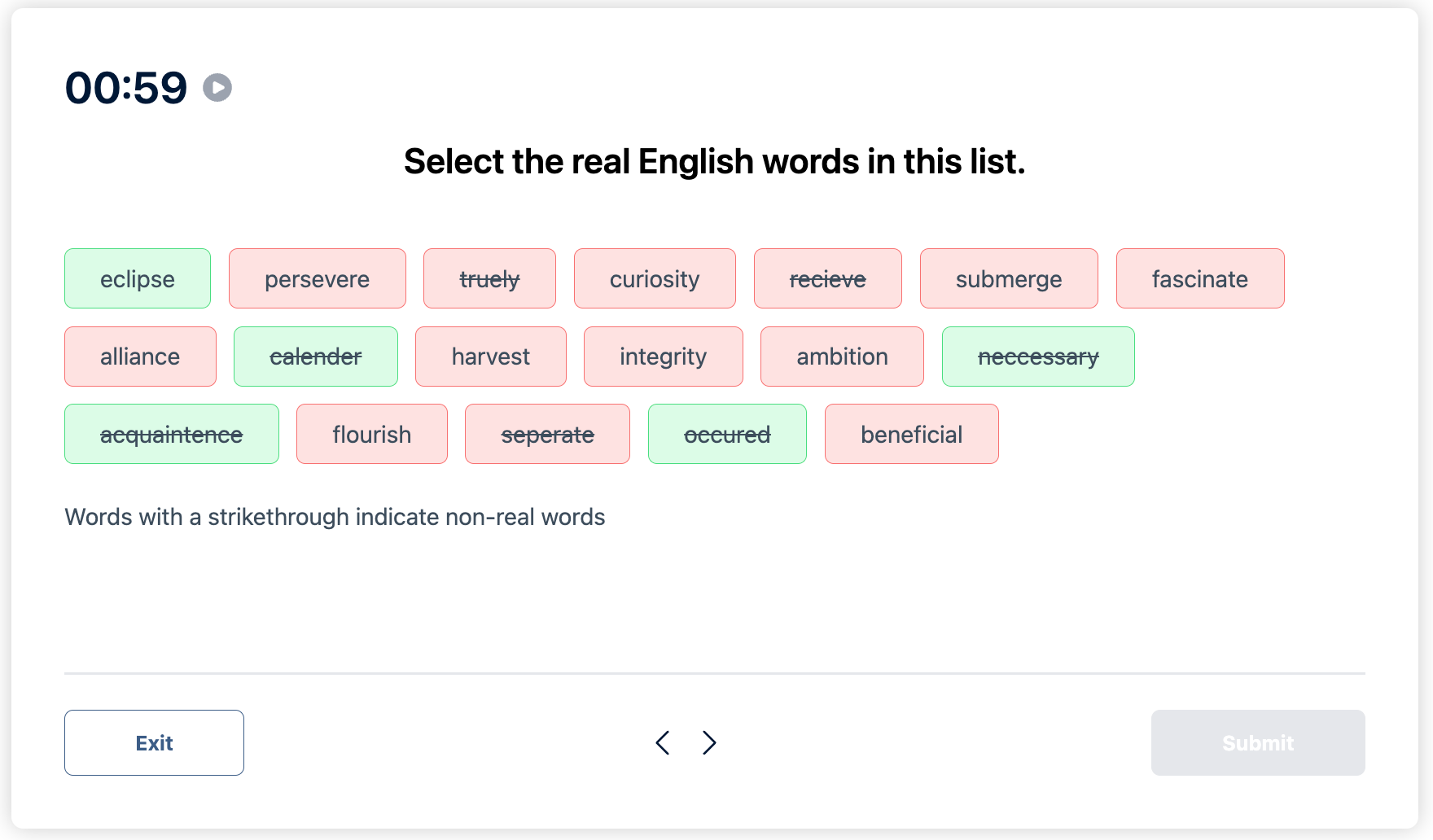 A word highlighted in green means that you got it correct. A word in red indicates that you got it wrong. When a word has a strikethrough (like this), this means that the word is not real.
Let's look at the above example to understand better:
Real word that I correctly selected: Eclipse
Fake words that I correctly did not select: Calender, neccessary, acquaintence, occured
Fake words that I incorrectly selected: truely, recieve, seperate
Real words that I incorrectly did not select: persevere, curiosity, submerge, fascinate, alliance, harvest, integrity, ambition, flourish, beneficial
5) To continue to the next practice question, just click the right arrow at the bottom.

Conclusion
Thanks to this post, you should now have a great understanding of the "Read and Select" question type. You also know how to practice it: Arno 😁
Arno gives you unlimited practice questions for every question type with instant scoring and feedback on your grammar and vocabulary. If you want to prepare for the Duolingo English Test, there is no better way 🙂
Just click below to create your account and you can start doing practice questions in less than 5 seconds.