Explained: Duolingo English Test Scores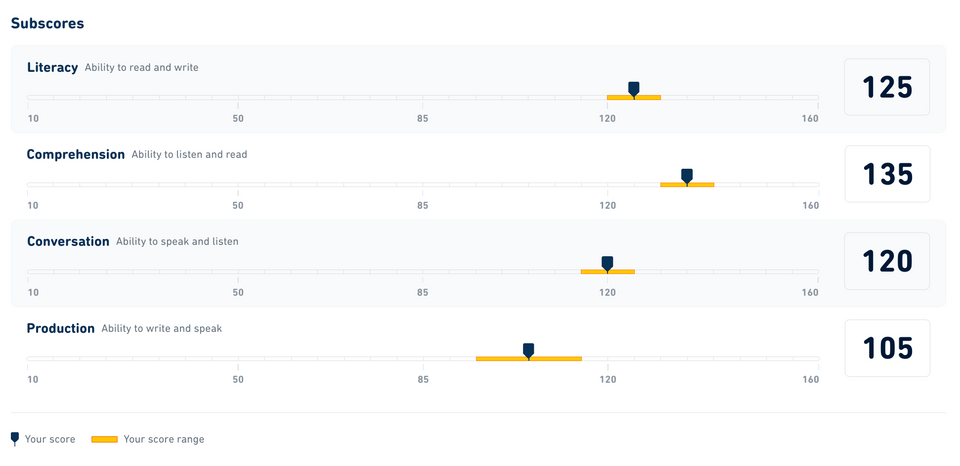 The Duolingo English Test uses its own scoring system, and it can be a little confusing. In this blog post, you will learn everything you need to know about Duolingo English Test scores.
Table of Contents
How is the Duolingo English Test Scored?
DET scores are between 0 and 160. When you take the test, you will be given 5 scores: 4 subscores and 1 overall score that is an average of the 4 subscores.
Here is what your score certificate will look like: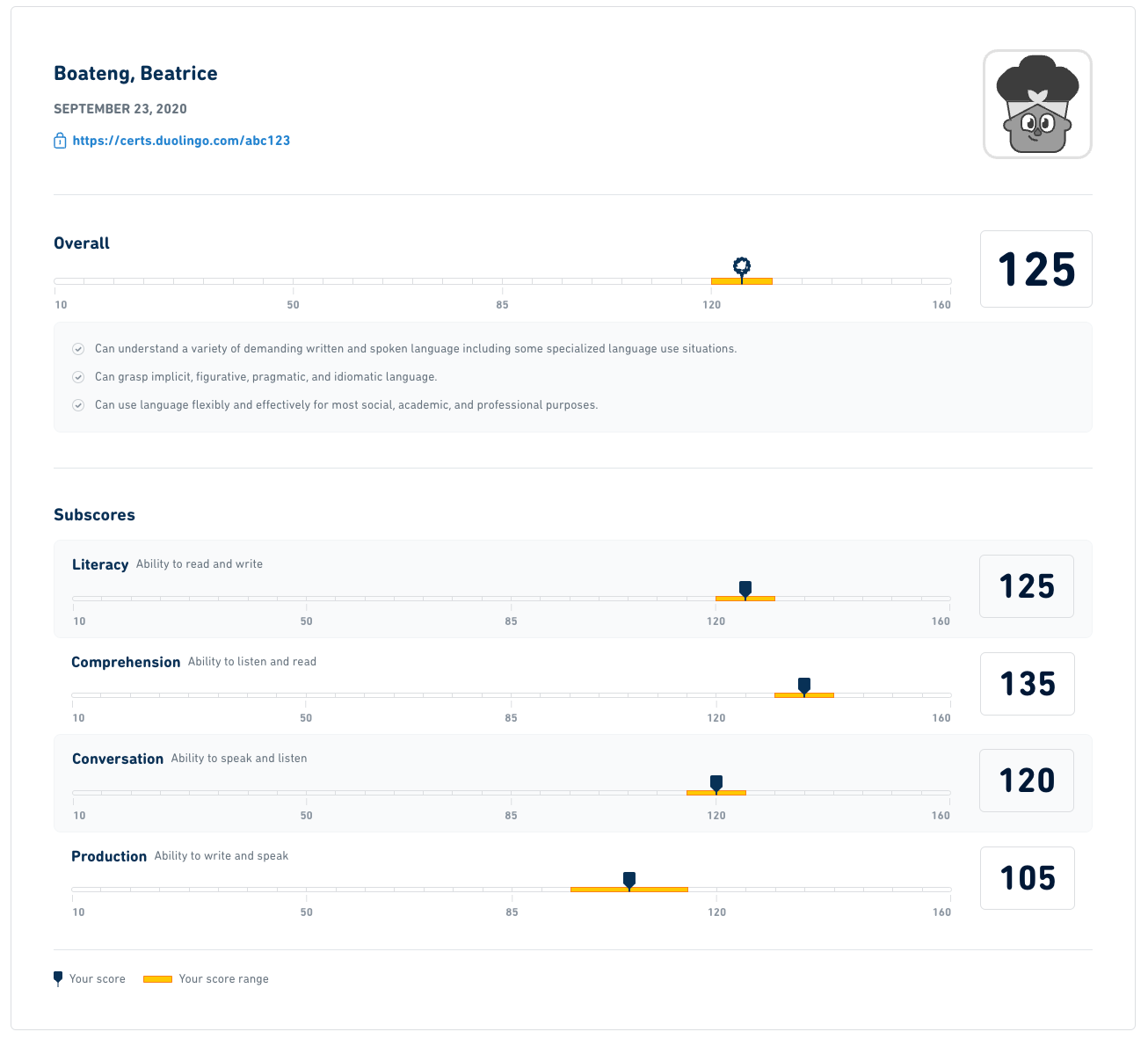 The Four Subscores
The subscores are not the usual components of Reading, Writing, Listening, and Speaking.
Instead, Duolingo combines 2 of these components to create the 4 subscores:
Literacy = Reading and Writing
Comprehension = Reading and Listening
Conversation = Speaking and Listening
Production = Writing and Speaking
Here is the official diagram provided by Duolingo:

Duolingo explains that they use these categories because, "While reading, writing, speaking, and listening are important language components, research shows that combined skills can better represent how language is used in real life. Effective language use requires people to employ multiple skills simultaneously." (Source)
What is a good score on the Duolingo English Test?
The definition of a "good score" really depends on what school or program you are applying to. Some schools require higher scores than others. You can see all the places that accept the DET here to learn about the required scores at different schools.
In general, many schools require scores around 115. So, if you don't know where you will be applying yet, 115 is a good score to aim for.
115 is a highly attainable score. In 2023, the average score of all test takers was 108.
💡
In 2023, the average score of all test takers was 108.
In their official technical manual, Duolingo provides some helpful statistics.
Average score (mean):
Overall = 108
Comprehension = 115.86
Conversation = 98.68
Literacy = 108.79
Production = 86.32
Duolingo also provides the 25th and 75th percentile scores. For instance, the 25th percentile score for Comprehension was 105, while the 75th percentile was 130. This means that 25% of test takers scored lower than 105 and 25% scored higher than 130.
25th and 75th percentiles:
Overall = 95; 120
Comprehension = 105; 130
Conversation = 85; 115
Literacy = 95; 125
Production = 75; 100
How do Duolingo Scores Compare to TOEFL and IELTS?
Here is a chart provided by Duolingo that shows how your DET score corresponds to scores on TOEFL and IELTS: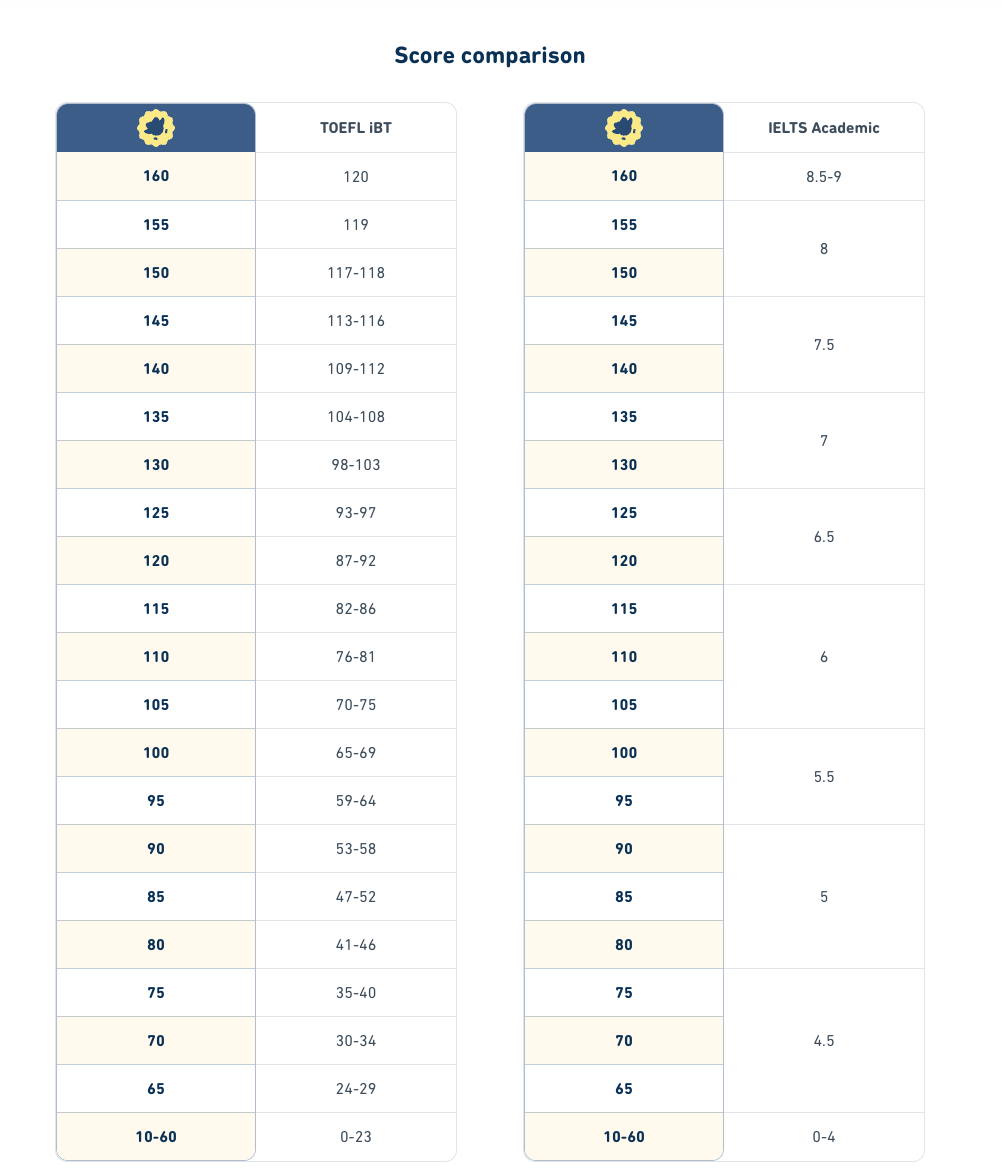 The average score of 108 on the DET corresponds to approximately 75 on TOEFL and a 6 on IELTS.
How Long Does It Take to Get Your Score?
One of the great things about the DET is that you will get your scores within 2 days of taking the test!
You can also share your score with as many places as you would like for no extra charge.
Can You See Your Score on Each Question?
Unfortunately, no. You can only see each subscore.
However, each question type on the test counts toward 2 or more subscores. You can see the breakdown here.
How to Improve Your Score
If you have the money, we recommend that you take the test one time to get an accurate overall score and, more importantly, accurate subscores. If you need to raise your score, then you can focus on raising your lowest subscore by focusing on those questions.
If you don't want to pay to take the test twice, we recommend that you focus on improving your Production subscore. This is because on average, this is the lowest subscore.
Start by reading our popular article: 8 Ways to Improve Your Production Score on Duolingo English Test (2023)
Then, you can practice the Production subscore questions using Arno! Here is how:
1) Go to duolingo.goarno.io. Create your free account.
2) You will get access to unlimited practice questions for every question type, including all Production questions.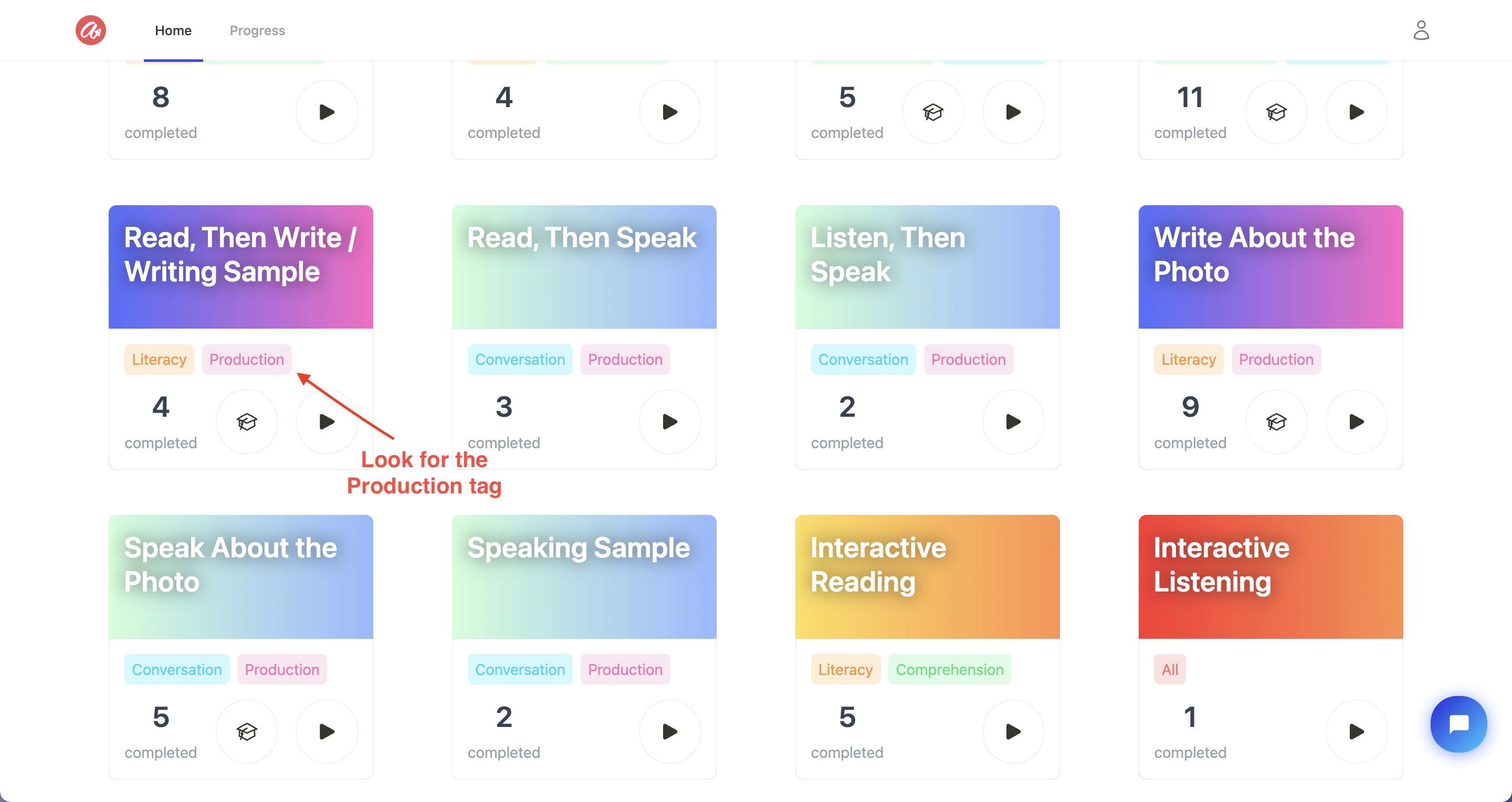 3) Once you answer a question, Arno will give you an instant, estimated score and feedback. For example, here is a response to a "Write About the Photo" practice question:

And here is the feedback I got from Arno: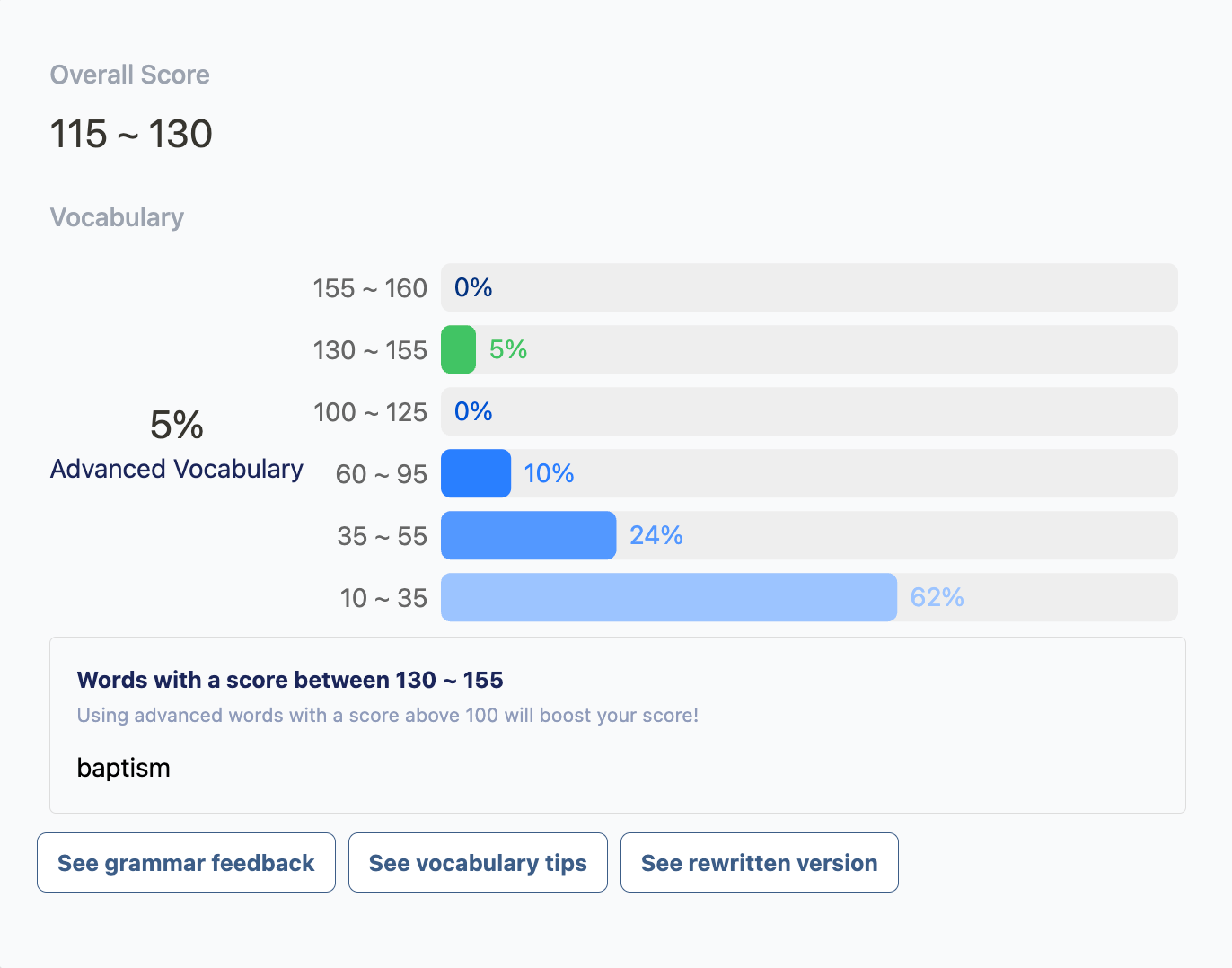 4) You can click into each score range to see the words you used that fall into the level. By clicking the "See grammar feedback" button, you can also get grammar feedback with explanations about how your writing could be improved.

5) By clicking "See vocabulary tips" and "See rewritten version," you can also get suggestions for how to improve your vocabulary and a rewritten, high-scoring version of your response.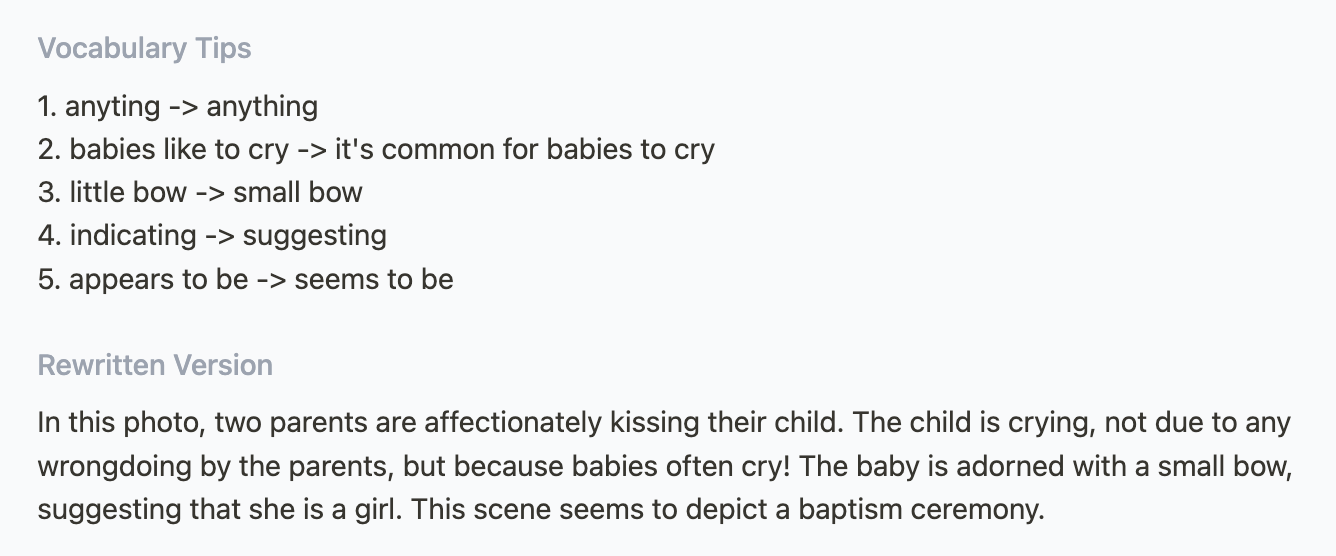 If you want to improve other subscores, just practice the relevant questions! Arno has practice questions, with instant scoring and feedback, for every question type on the Duolingo English Test.
Conclusion
Now you understand how the Duolingo English Test is scored, how that compares to other English proficiency tests, and how you can improve your scores.
To use Arno to start raising your scores, just click below!