Duolingo English Test Ultimate Guide (2023) - Arno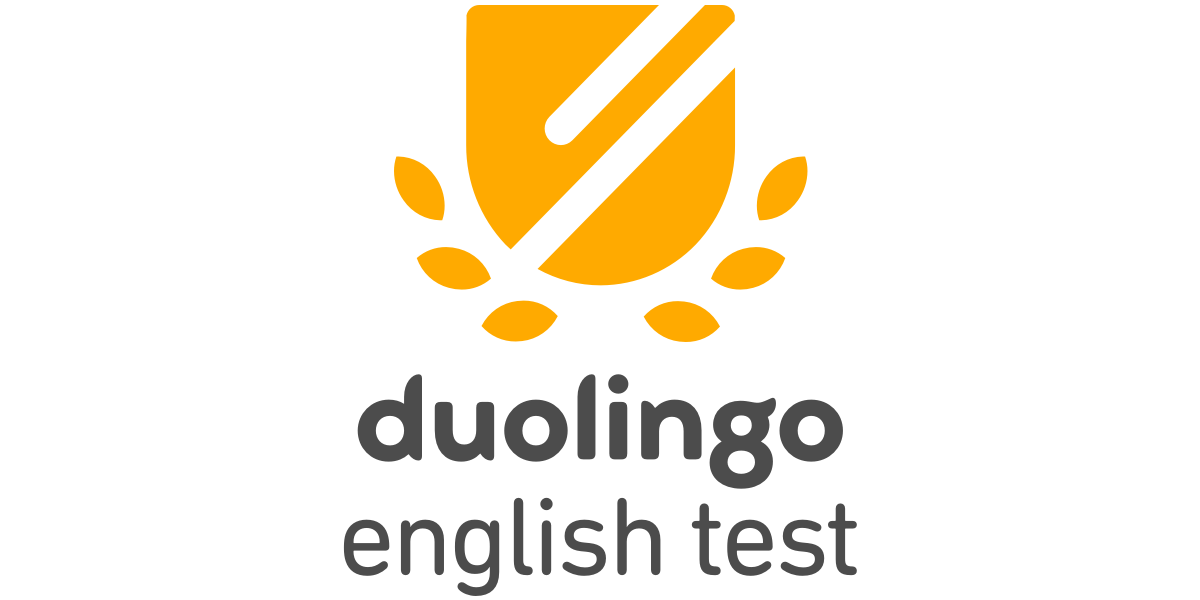 In this post, you will learn everything you need to know about the Duolingo English Test.
Table of Contents
What is the Duolingo English Test?
The Duolingo English Test (DET) is an online, standardized assessment used to demonstrate the test taker's English proficiency; it is most commonly used by international students for university applications.
The Duolingo English Test was created in 2016 and exploded in popularity during the pandemic. In 2020, there were 19 times more test takers than in 2019! 😮
In 2022, over 160,000 people took the DET. As of July 2023, over 4,500 institutions accept the DET, which is a 50% increase compared to just 2 years ago.
In short, the DET is new, but it is quickly becoming a popular alternative to other English proficiency tests.
Let's see why.
TOEFL v. IETLS v. Duolingo English Test
TOEFL and IELTS are still the two most common English proficiency tests in the world. They have both been around for many years and have strong reputations.
A common question is: Which test is easiest?
People have strong opinions about this, but the truth is that all 3 tests accurately assess a person's English proficiency. It's unlikely that you would score higher on one test than the other.
This also means that a score on one test will give you a good prediction of your scores on the other tests.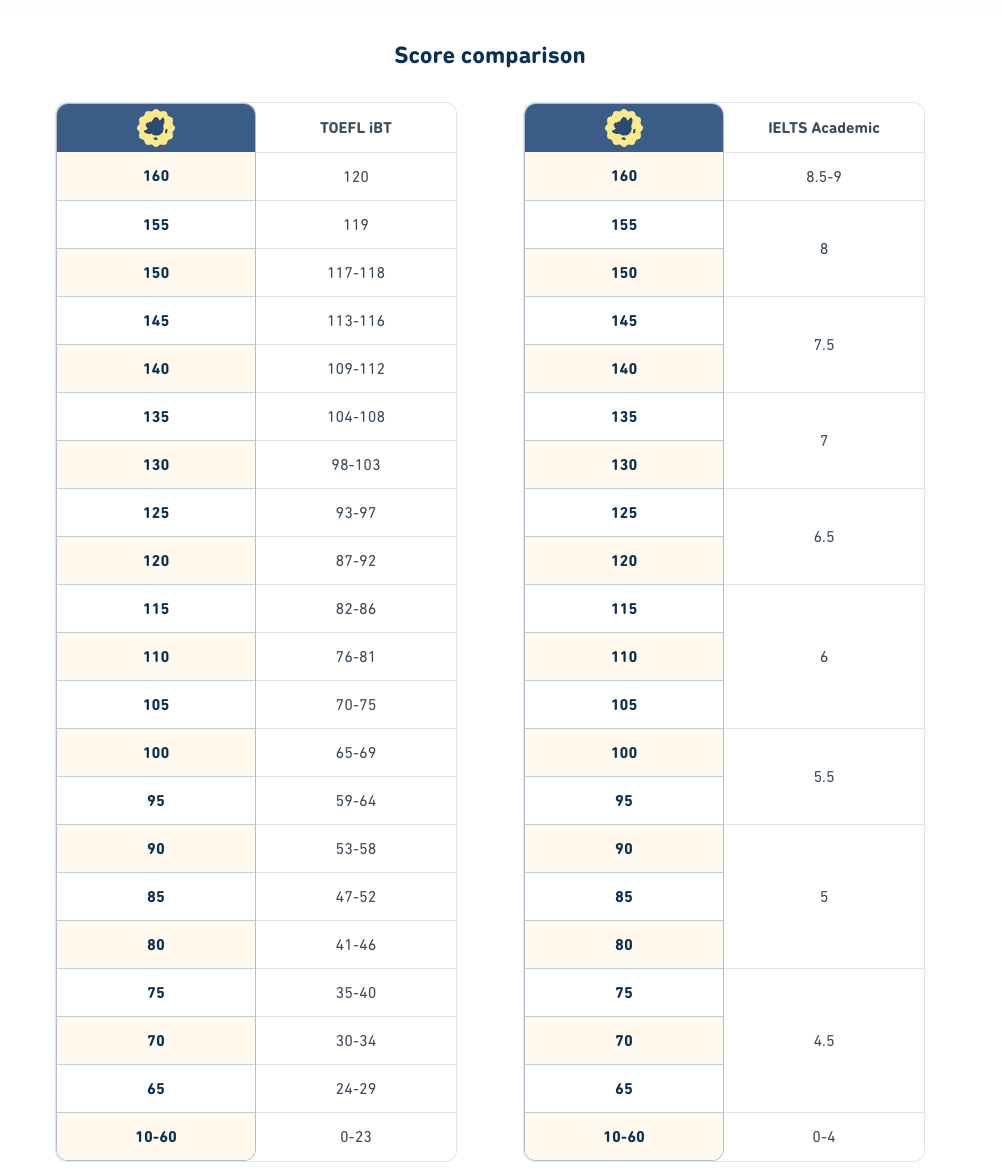 So, the DET is not easier (or harder) than other tests, but it does have other advantages.
Advantages of the Duolingo English Test
Shorter
The DET lasts only 1 hour, compared to 2 hours for TOEFL and 2.5-3 hours for IELTS. The DET is so short because it uses an "adaptive format". This means the difficulty of the test questions will adjust to your abilities; if you're getting questions correct, the next questions will get more difficult. You won't waste time answering questions that are too easy or too hard for you.
Cheaper
The DET costs $59 for 1 test or $98 for a bundle of 2 tests, which comes out to $49 USD per test. Thankfully the Duolingo English Test costs the same, no matter which country you take it in. The DET also does not have additional fees, like late registration fees or rescheduling fees. In addition, you can send your DET results to as many schools as you would like for free.
By contrast, prices range for the TOEFL, but are generally between $150 USD and $300 USD, depending on where you take the test. Further, while you can send your results to 4 schools for free with TOEFL, after that, it's $20 USD per school.
Similarly, the cost of the IELTS falls between $150 USD and $325 USD, depending on the country where you take the test. With this test, you can send your results to 5 schools for free. Then, it's $3.75 USD plus $19 USD to send your results to a school outside of the country where you took the test(!!!)
As we can see, the Duolingo English Test is much more affordable!
More convenient
The Duolingo English Test was designed to be taken at home, on your personal computer. This is why it became so popular during the pandemic – you can take the test from anywhere!
All you need is a quiet room in which you can be alone to take the test, a computer or laptop with a camera and microphone, and a stable internet connection. Even better, you can purchase and take the Duolingo English Test whenever you like.
You can take the IELTS online, but most people take the test at a testing center. This is in part because you can only take the IELTS online if you live in certain countries and have a passport.  In addition, the IELTS is only offered up to 4 times per month on Thursdays and Saturdays and spots fill up fast! To make matters worse, IELTS isn't always able to schedule your Speaking section on the same day as the rest of your test, meaning when you sign up for an IELTS test, you need to make sure you can be around for 2 entire weeks!
Similarly, there are only 50 TOEFL iBT test dates available throughout the year. The TOEFL iBT Home Edition is a little more convenient, but you can take it only 4 days a week and you still have to pick the specific time. No planning is needed for the Duolingo English Test!
Faster results
You will get your DET results within 48 hours. For $40 more, you can get them within 12 hours. Meanwhile, TOEFL takes 4 to 8 days and you have to wait 13 days to view your IELTS results online (and 23 for your official Test Report Form to be sent in the mail).
Disadvantages of the Duolingo English Test
Not accepted by every institution
This is the biggest disadvantage of the Duolingo English Test. TOEFL and IELTS are accepted almost everywhere. Duolingo is accepted by most schools, but not all. However, Duolingo is investing a lot in expanding the DET, and within the next few years, it will likely be accepted everywhere.
You can see all 4,500+ institutions that accept the DET by clicking here.
Requires stable internet connection
The DET is timed and you have to complete it in one sitting. This means that you need stable internet to successfully complete the exam.
Sometimes hard to get results certified
Duolingo uses the camera on your laptop or computer to record your test session. This recording is reviewed by human proctors. Duolingo really wants to prevent cheaters, so if they see anything suspicious, they won't certify your results.
This means that many non-cheaters struggle to get their results certified. Thankfully, Duolingo allows you to retake the test if they see anything suspicious. However, if they have clear evidence that you cheated, you will be banned for life! (But you can appeal a ban as well).
Which test is right for you?
You should take the Duolingo English Test unless you're applying to a school that doesn't accept it. It's cheaper, faster, and more convenient.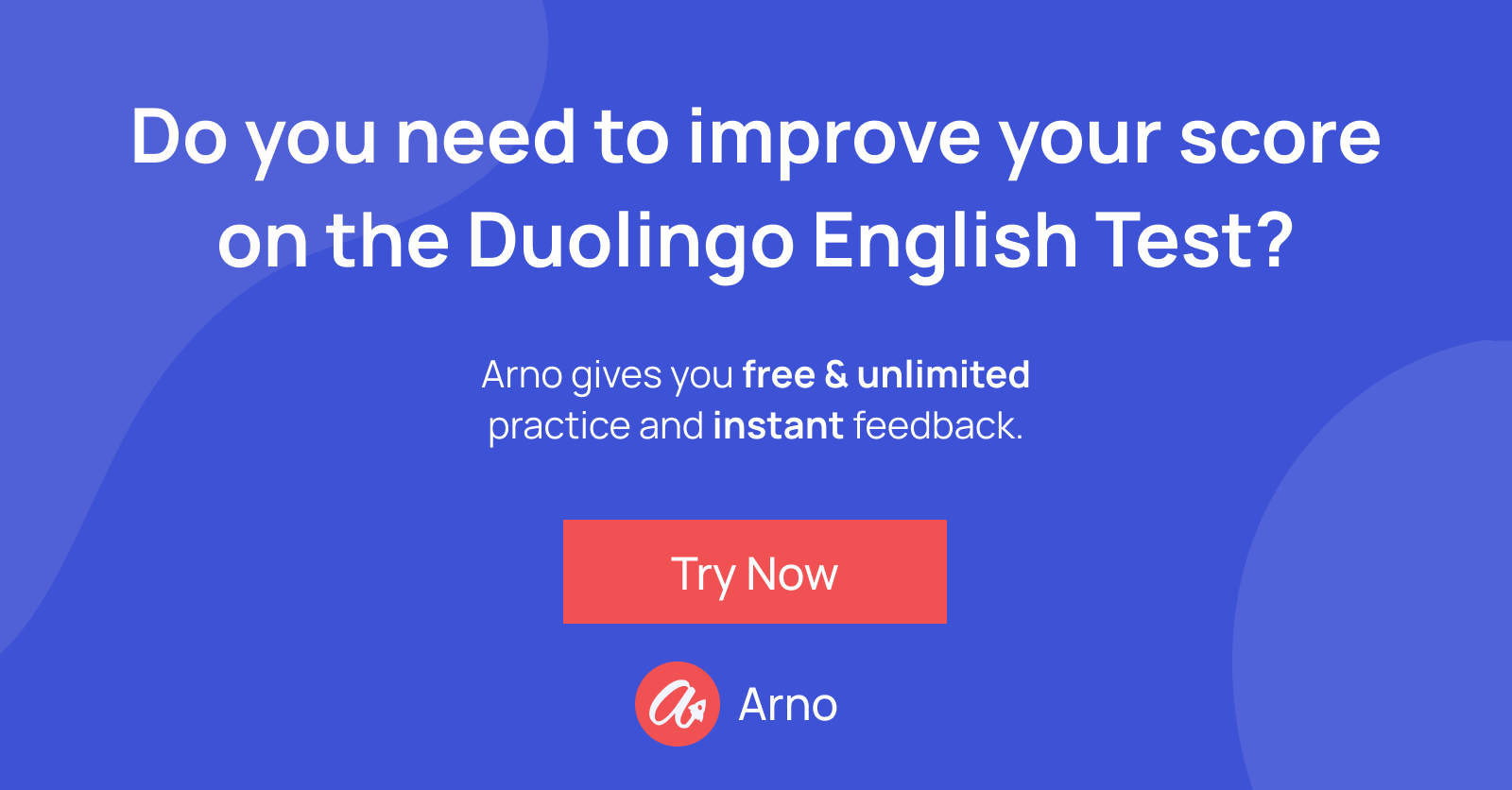 Where is the Duolingo English Test accepted?
Duolingo maintains a complete list of all institutions that accept the DET here.
As noted previously, the number of accepting institutions has been growing quickly and Duolingo is actively hiring people to convince even more institutions to accept it. Thus, if an institution isn't on the list now, check back every few weeks.
Currently, the Duolingo English Test is accepted by approximately 4,634 schools worldwide including:
1212 graduate schools
1824 undergraduate schools
598 secondary schools
357 community colleges
214 ESL (English as a Second Language) schools
149 business schools
280 "Other" specialized schools i.e. acupuncture, film, arts, summer programs
Which countries currently accept the Duolingo English Test?
The Duolingo English Test is currently accepted in 110 (out of 195) different countries across the world, though the countries where the Duolingo English Test takers share their results the most are the US, Canada, and the United Kingdom.
Here is a list of all the countries where schools accept the Duolingo English Test:
Afghanistan
Albania
Argentina
Armenia
Aruba
Austria
Azerbaijan
Bangladesh
Bahamas
Bahrain
Belgium
Bhutan
Brazil
Bulgaria
Cambodia
Cameroon
Cayman Islands
Chile
China
Colombia
Congo - Kinshasa
Costa Rica
Cote d'Ivoire
Cyprus
Czechia
Denmark
Dominican Republic
Ecuador
Egypt
El Salvador
Ethiopia
Finland
France
Germany
Gibraltar
Greece
Guatemala
Guinea
Honduras
Hong Kong SAR China
Hungary
India
Indonesia
Iran
Iraq
Ireland
Israel
Italy
Japan
Jordan
Kazakhstan
Kyrgyzstan
Latvia
Lebanon
Libya
Lithuania
Luxembourg
Macedonia
Madagascar
Malaysia
Mali
Maldives
Malta
Mexico
Moldova
Mongolia
Myanmar (Burma)
Nepal
Netherlands
New Zealand
Nicaragua
Norway
Panama
Peru
Philippines
Poland
Portugal
Puerto Rico
Qatar
Romania
Russia
Rwanda
Saudi Arabia
Senegal
Singapore
Slovakia
Somalia
South Africa
South Korea
South Sudan
Spain
Sweden
Switzerland
Taiwan
Tajikistan
Thailand
Timor-Leste
Tunisia
Turkey
Uganda
Ukraine
United Arab Emirates
Uruguay
Uzbekistan
Venezuela
Vietnam
You can view a list of all universities in Europe specifically accepting the Duolingo English Test on our blog.
Fun fact - While the Duolingo English Test is accepted in all American states, the most common are:
California
New York
Massachusetts
Texas
Pennsylvania
Ohio
Illinois
Florida
Michigan
Arizona
Is the Duolingo English Test accepted at my university?
You can find out whether the Duolingo English Test is specifically accepted at the university where you are applying in three ways:
Visit the official Duolingo English Test website and type in your university name OR
Visit the admissions or international students' webpages for that university specifically to see their language proficiency requirements OR
Contact the school admissions committee directly to see if they accept the Duolingo English Test for the language proficiency requirement (and if they have a fee waiver!)
Can I take the Duolingo English Test to fulfil my student visa requirements?
We are constantly updating our blog (and this guide) with visa-related information. Below is guidance for student visas in a few of the most popular countries accepting the DET.
Germany- to demonstrate English proficiency for the German student visa, the TOEFL or IELTS is required although the Duolingo English Test can be used for acceptance into some German universities.
Requirements of the Duolingo English Test
Because you take the DET from home, the test has very strict requirements to ensure there is no cheating.
Have your identification ready.
You need a non-expired government-issued ID.
You must be alone in the room.
No one can be in the room while you are taking the test. Even just someone walking by during the test can lead the proctor to cancel your scores.
Close all programs on your computer.
Be sure that every program is closed, because if you have any programs running, Duolingo will not certify your results. This includes web browsers and especially grammar checkers like Grammarly.
Stay focused on the screen.
Don't look away, even while you are talking. Duolingo is worried that you may be reading off an answer on another screen or that you have written down.
Don't use headphones.
Headphones are not allowed on the test. You can use an external microphone, but it cannot be part of a pair of headphones.
No pen or paper.
You can't use anything to take notes.
Structure of the Duolingo English Test
The DET has 3 sections:
1. Quick setup (5 minutes)
In this section, you will review the rules and requirements of the test and make sure your laptop or computer is set up correctly.
2. Adaptive test (45 minutes)
This section consists of approximately 50 questions of 11 Types. Remember, the questions will change in difficulty depending on your level.
The questions can appear in any order, but they will appear a certain number of times.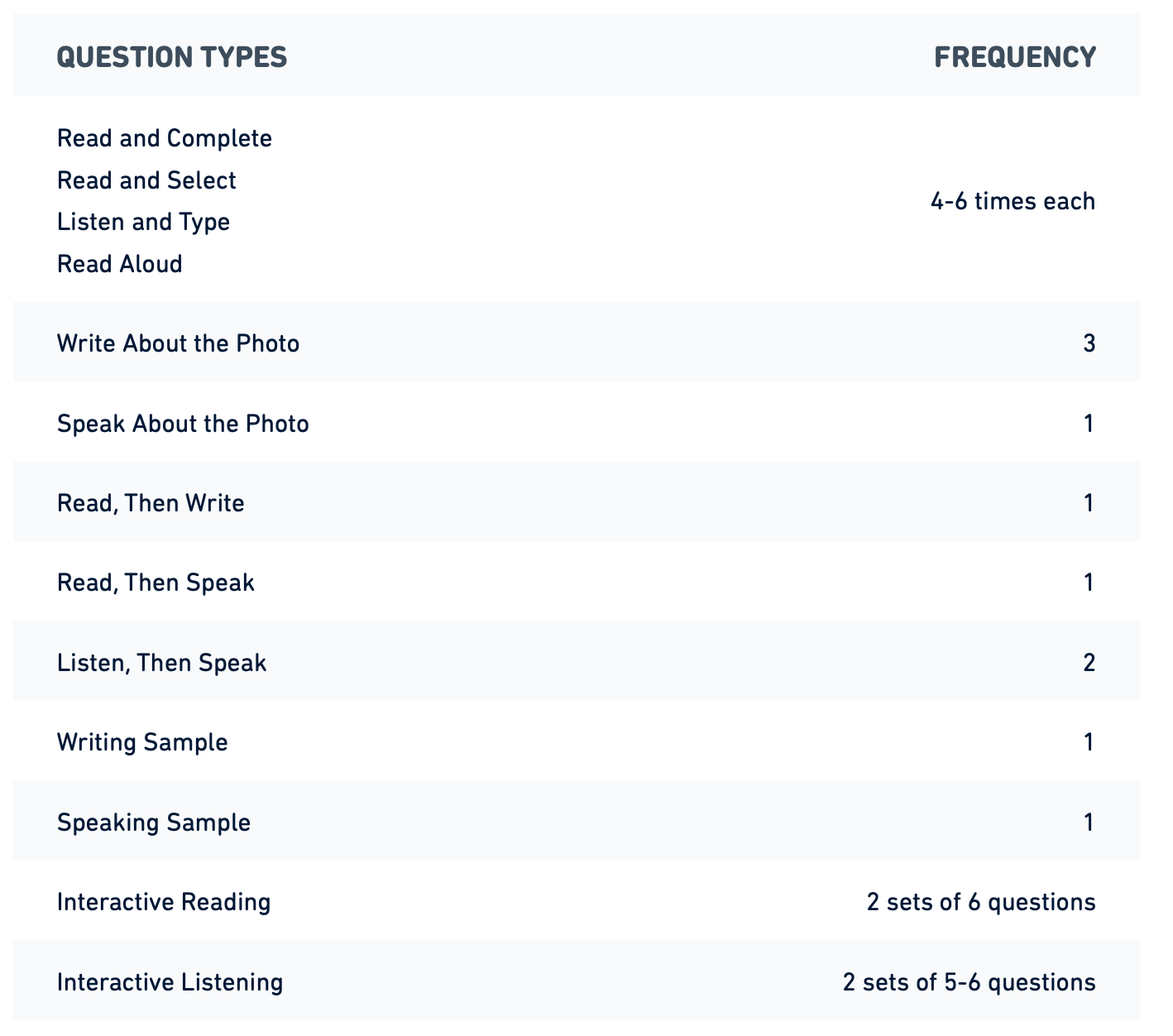 3) Writing and speaking sample (10 minutes)
The final section consists of the Writing Sample and Speaking Sample. These questions look a lot like other questions on the test, and they count toward your scores.
The difference is that your responses to the Writing and Speaking Samples will be sent to the institutions you are applying to,  along with your scores. This allows the recipients to assess your English proficiency for themselves.
👉  To read more about the Writing Sample, check our guide: "Writing Sample" - Guide to Duolingo English Test Question (2023)
How the Duolingo English Test is scored
Scores are between 0 and 160 points. You are given 1 overall score which is an average of 4 subscores.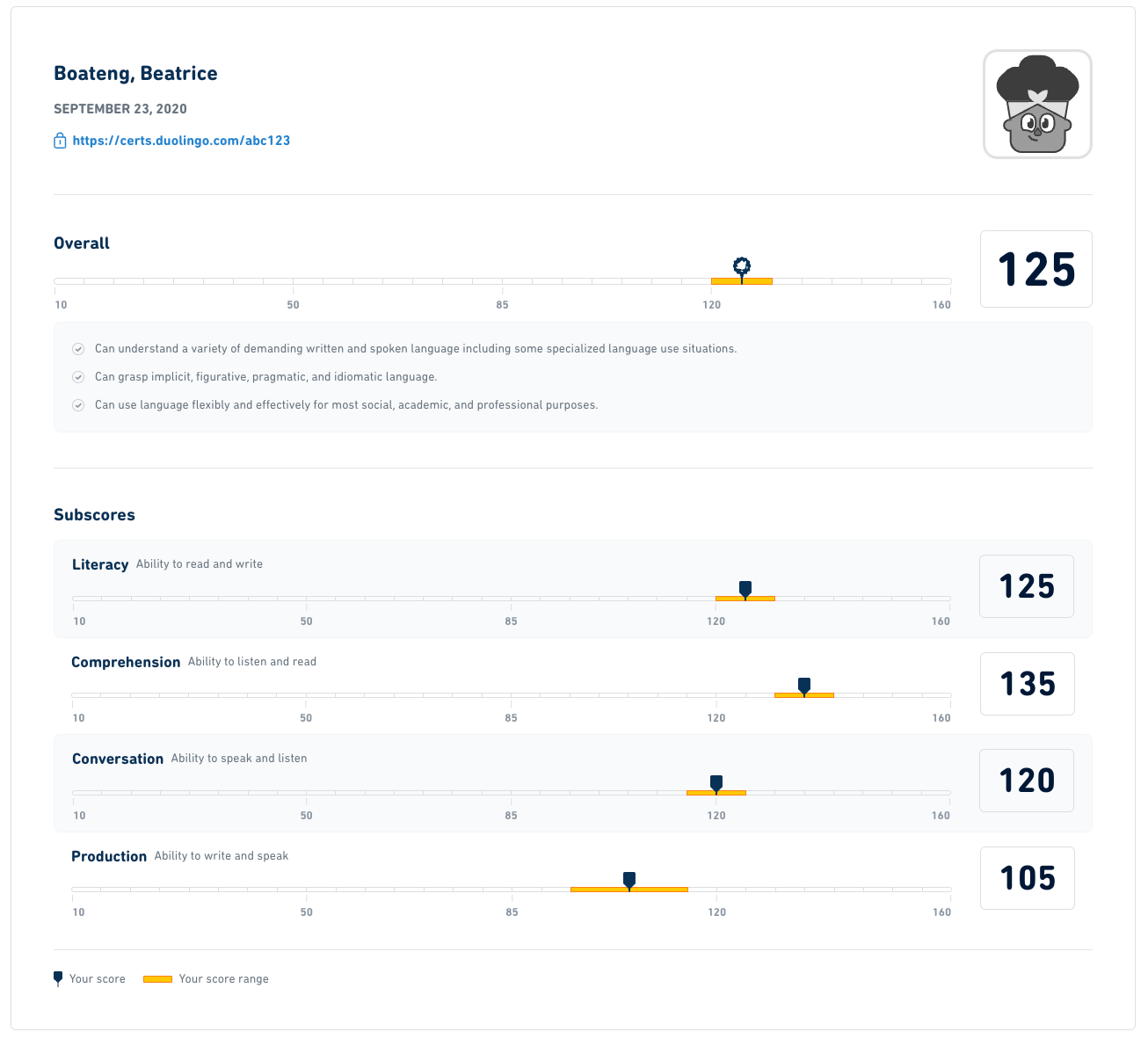 The subscores are not the traditional components of Reading, Writing, Listening, and Speaking. Instead, Duolingo combines components to make 4 new categories. Here is a diagram that explains:

👉  To learn more about DET scores, check out our article: Explained: Duolingo English Test Scores
How to Prepare for the Duolingo English Test
1. Familiarize yourself with the question types
Although it is impossible to know the exact questions you will see on the test, you can become familiar with the types of questions.
Here is a quick overview of all the question types.
For more information about each one, including how to get the highest score, check out our in-depth articles:
Duolingo also offers a practice test. Although it gives you an estimated score, it isn't accurate. But, the practice test is a good way to get some experience answering the questions one after another like you will on the real test.
2. Focus on your low subscores
If you have taken the official DET, then you will have your overall score and your subscores. If you need to raise your score, start by focusing on improving your lowest subscore.
For most people, this is the Production subscore. So, if you haven't taken the full test, start by practicing questions that count toward your Production subscore.
To practice, you can use Arno. We give you unlimited practice questions with instant scoring and feedback 😁
Just to go duolingo.goarno.io and create your account. Then, practice the Production questions.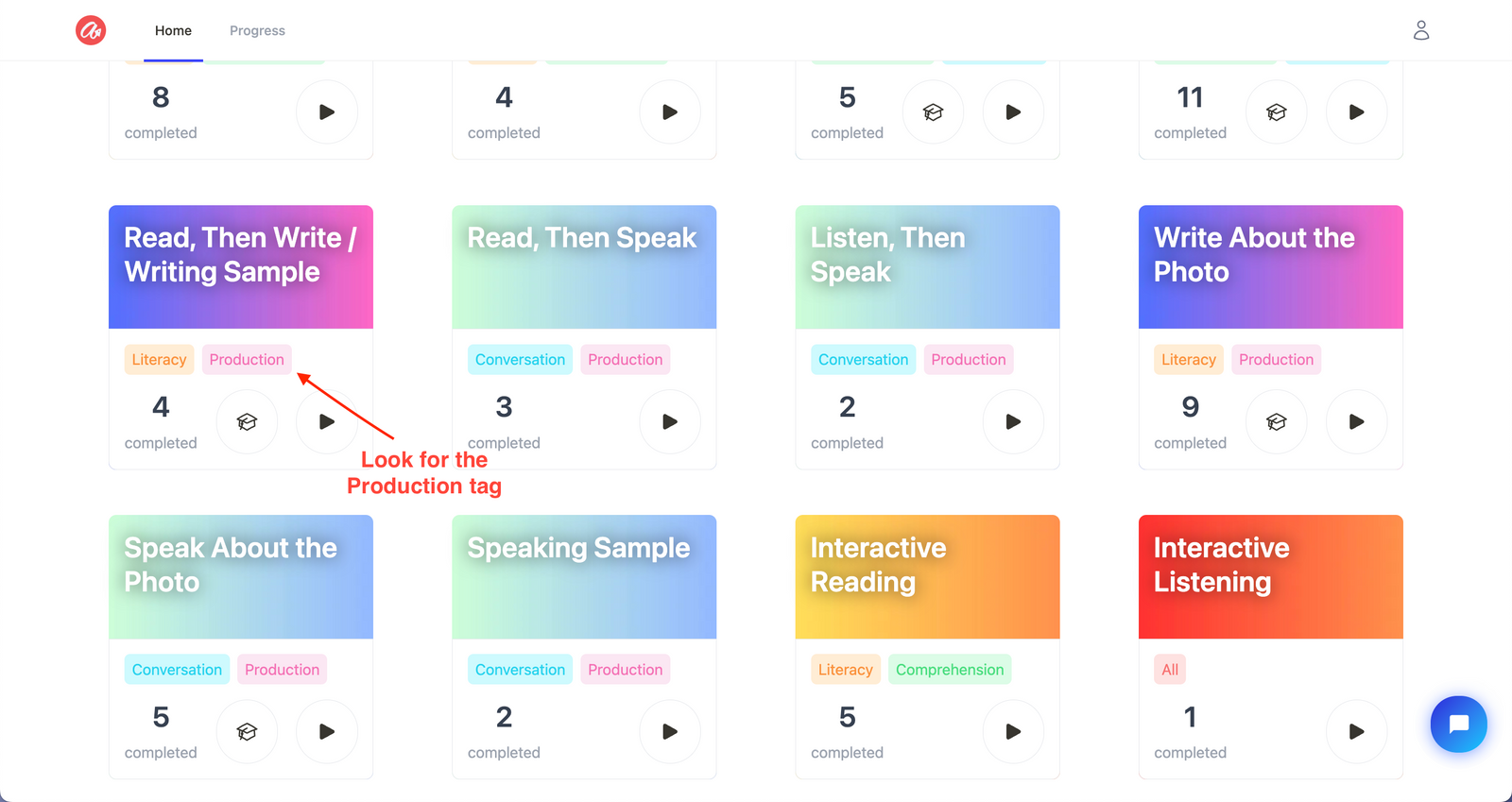 3. Practice with feedback
This is the most important, but most difficult, part of preparing for the DET. In order to improve, you need feedback. Some people can get an English tutor, but most people can't afford to do that.
That's why we built Arno. Now everyone can get high-quality feedback, improve their English, and get a great score on the DET.
When you answer a Production question in Arno, you will get feedback like this: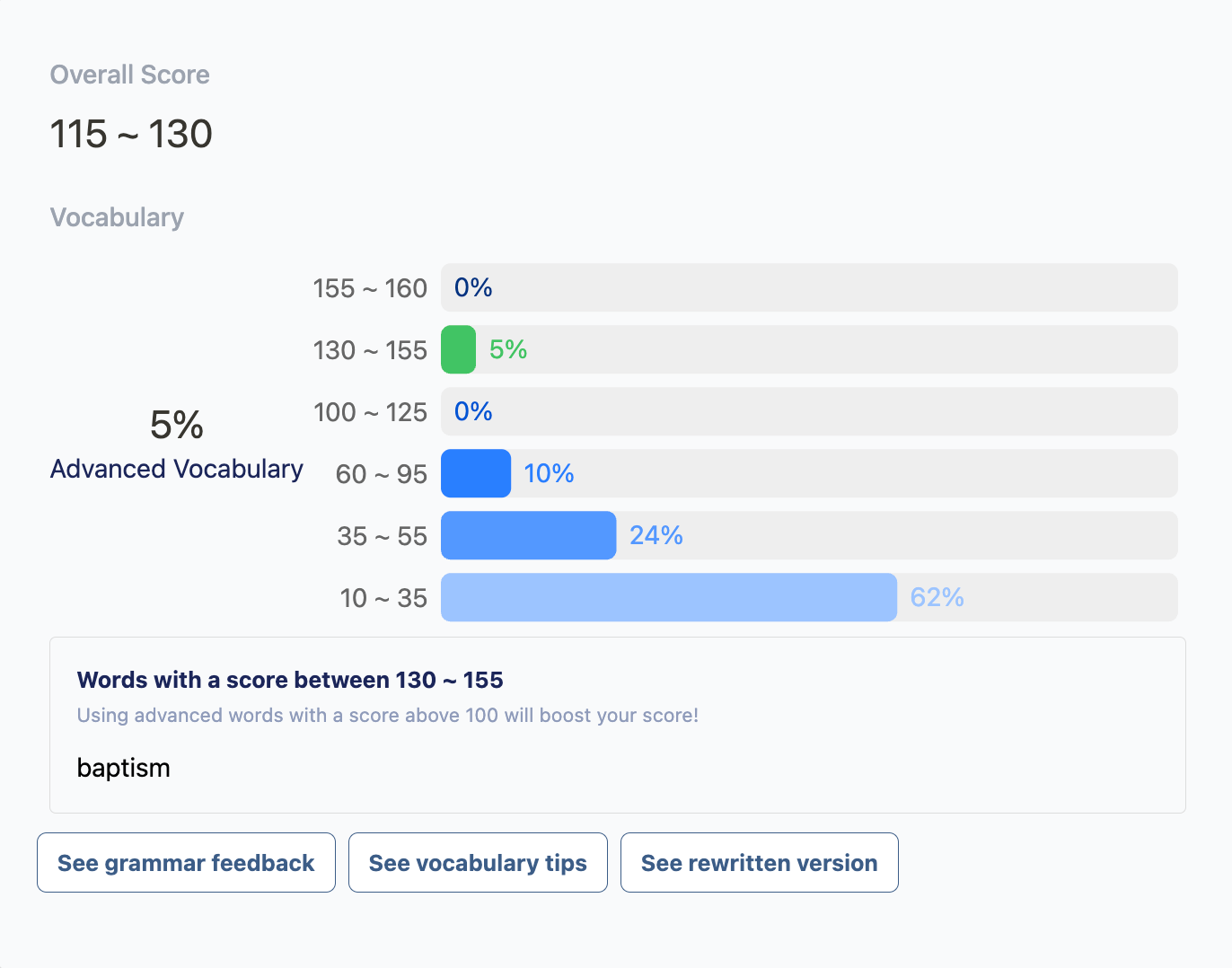 We will give you an estimated score and show you how advanced your vocabulary is.
Arno will also explain your grammar mistakes, provide suggestions to improve your vocabulary, and provide a high-scoring, rewritten version of your response.



Retaking the Duolingo English Test
Duolingo's policy for retaking the test is that you cannot purchase the DET more than three times within a month (30-day period). No one can see your results on a particular test unless you share the results with them. So, if you only share your best results, no one will know if you took the test multiple times.
When you purchase a single Duolingo English Test, you receive one credit. You have up to three attempts to use the credit to complete the test. Anytime you begin the test, it counts as an attempt.
If you encounter a technical error that prevents your test from being certified, you may retake the test at no additional cost if you still have attempts remaining on the credit.
There are many reasons why your test may not have been certified, and different circumstances will result in different courses of action:
If your test is not certified due to a technical error, such as your internet connection cut off, your test will not be certified. This counts as the first attempt. You will have two more attempts to complete and upload the test on that credit.
If your test is not certified due to an ID error, you do not need to retake the test. You will just need to resubmit a valid ID.
If your result is not certified due to breaking a test rule such as looking away from the screen too often, and you do not receive an email saying your account is blocked, you may retake the test if you still have attempts on your credit.
If you have violated more serious rules such as receiving help or having an impersonator take your exam, your credit will expire and your account may be blocked for a period of time or indefinitely.
For these reasons, it's important that you are familiar with all the test rules before you start your exam.
Conclusion
Now you understand the DET and can decide if it is the right test for you. If you decide to take the DET, we hope you'll check out Arno 🙂
Just click the link below to create your free account and access endless practice questions!